We are pleased to announce the arrival of our Service Status page. Use the menu item "Service Status" above or click here to view the current status.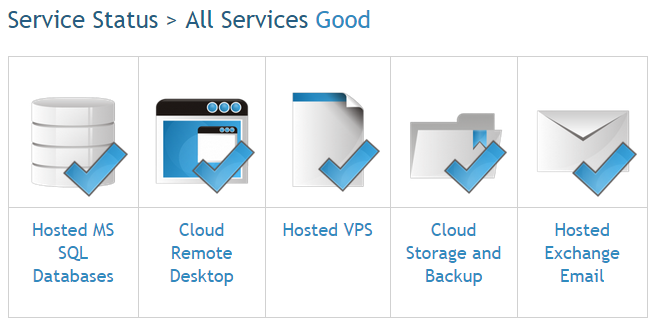 Service Status Page Purpose
The Service Status page replaces all news announcements for service related updates. Bringing you an up to the minute health status report of all available Cloud services and any scheduled maintenance alerts.
Scheduled Maintenance
When scheduled maintenance is due to, forewarning will be shown on the Service Status page, days in advance of the maintenance. This will include; services affected, how they are affected and how long they will be affected for. In addition to this service, scheduled maintenance alerts will continue to be delivered to all Cloud Services customers via email.
Service Down
When a service has been reported as down, the Service Status page will reflect which services are affected, and expected time-scales for resolution of issues affecting those services.