We are pleased to announce that our new, fully featured, Live Chat platform is now on-line. Visit our company web site bristoltechnology.com to try it out! At BTG we recognise that getting hold of our team is often time critical, but we think this should still be at your convenience. For this reason we are always increasing the number and variety of ways to get in touch. Our Live Chat platform is our latest addition.
How to access Live Chat?

If you are reading this post on our website, you will see a chat widget at the bottom right of your screen (or at the top if you are viewing on a mobile device).
Simply click the widget, type your name and a brief message, then an operator will join your chat session as soon as one is available. Responses are live, in real time and always from a real person at the other end. We won't bombard you with canned replies and auto responses, we know how much you hate them.
When is Live Chat Available?
Our Live Chat service is available during our normal office hours, Monday – Friday 9:00 – 18:00. Outside of these hours, please use our many alternative methods of communication to get in touch. Existing customers, please see also our client login page to access to your account.
Even Print or Email Your Transcript
We may need to send you detailed instructions or a phone number that you need to refer to later on. Fortunately we have that covered too, the system features options to send the contents of the chat to an email address or your local printer.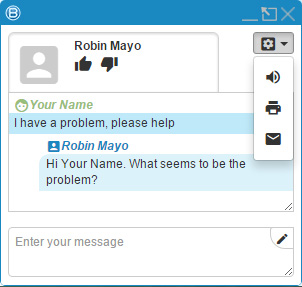 If you forget to email or print, get in touch, we'll be happy to send you the conversation directly.
Review Your Responder
Leave a thumbs up or thumbs down to let your responder know if they are doing a good job.
We hope you enjoy your experience with the Live Chat platform, we welcome any feedback about our support staff or communication platforms. Feel free to get in touch.