We are very proud to announce that Bristol Technology Group have been awarded A ratings from Qualys SSL Labs for our Exchange Email service, Cloud Remote Desktop service and company website. In our ongoing commitment to excellence, we strive to outperform our rivals by keeping ahead of the curve when it comes to cyber security. Read on to find out what this means.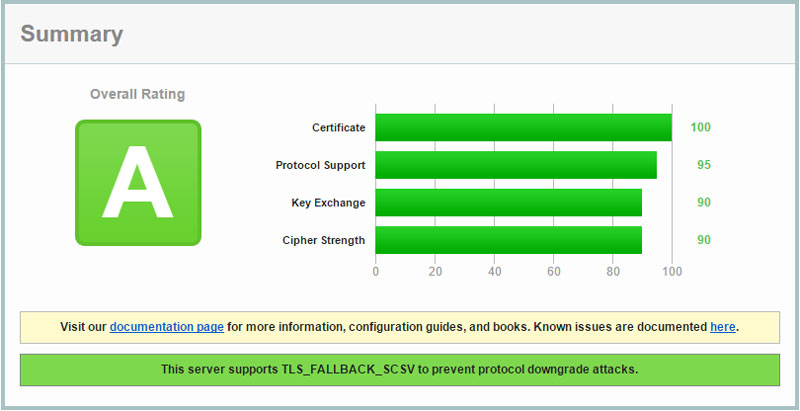 What is SSL and why is it important?
SSL (Secure Sockets Layer) is a security technology standard for establishing an encrypted link between a server and a client. This is typically between a website and a browser; or a mail server and a mail client. As with all aspects of cyber security, the SSL landscape constantly shifts and changes as new features are introduced and old features are exposed as vulnerable and thus deprecated. The most notable SSL weaknesses exposed recently are the "Heartbleed" vulnerabilities, though there have been many over recent years.
Attackers are able to leverage these flaws to obtain valuable information from communications that users mistakenly believe are secure. Think online banking, online shopping, email accounts, social media accounts – these services all rely on SSL to keep your private information secure. Ensuring the highest levels of SSL encryption ensures that our customers are not exposed to these risks.
What does an "A Rating" mean?
The SSL test from Qualys SSL Labs is an indicator of just how seriously a service provider takes cyber security. They put the server in question through rigorous and current tests to make sure its using the most up to date cipher suites and SSL protocols, and that they are used in the most secure order. They also test for strict transport security, SSL optimisation and the encryption level of certificates.
The coveted A rating from Qualys SSL Labs is regarded in extremely high regard by the cyber security world as the benchmark for companies who take cyber security seriously. We are proud to be able to place ourselves among them.
Benefit from our expertise
Visit our security page for information on what we have to offer. This autumn 2015 we are offering a free security audit to businesses based in Bristol and Bath. Get in touch to find out more.